Specifically, we believe (following Foucault ) that knowledge and power are mutually implicated in ways that involve the structure and distribution of discursive formations, not just the power of images produced by the dominant classes under late capitalism.
--Arjun Appadurai and Carol Breckenridge, 1995


Bhaktapur¹s old neighborhoods are usually centered around a small square (lachi), with a public water source (tu[n]), temples, and usually a local Ganesh shrine. Where you are standing now‹Khauma Tol [3]‹is typical of such squares. Past the taxis, halfway down the square and directly in the middle, you will find a hiti [E], or sunken water tap. Kitty-corner to the water tap, and past the two bells, you will find a small sata [F].to your left, you will see a long house whose ground floor has been given over to shops, but whose first story is made of intricately carved windows. Straight ahead about 100 meters, you will see the Shiva/Parvati Temple and the Siva Temple, a pair of small double-roofed pagoda style monuments [G].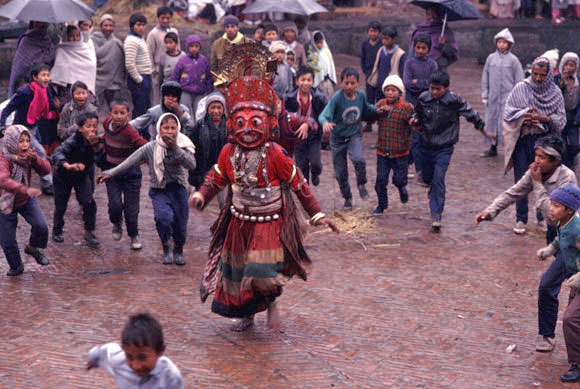 Walking home after taking the express bus late in the afternoon of 24 February 1999, I came around the corner into this square and saw that the masked dancers Sima and Duma were "fishing."
     The square was filled with children. Towering over the kids, like trees above a meadow, were three camera-laden tourists. Sima and Duma, who had been collecting money from the storekeepers in the area suddenly spotted the bigger "fish" of the tourists. The tourists backed up slowly away from the dancing performers whose bangles and bells jingled as they pranced forward. The tourists did not understand what the dancing figures following them wanted, and they backed out of the square.
     I slid my way around the crowd and saw the Nine Durga masks lined up for darsan (viewing the god). I squatted over by a store, ordered a coke, and began to pet Tarzan the dog, so named by the square¹s residents because he makes a sound similar a jungle yell. To understand Khauma from a de-colonized position, we need to see it as a "hyphenated place."